The Department of Veterans Affairs starting Jan. 1 will have the authorities and capabilities to begin processing all PACT Act claims that it aims to pay out to all veterans with service-connected toxic exposures quickly. 
Under its Veterans Benefits Administration, the agency also expedited the timeline for many veterans to receive these benefits. This means VA will not phase in benefits through 2026, as outlined in the legislation, but instead make all new presumptions of exposure and service connection applicable Aug. 10, 2022 — when the bill was signed into law.  
Additionally, VBA began processing claims for terminally ill veterans Dec. 12 to expedite delivery of these benefits. The agency has received approximately 2,600 claims from terminally ill veterans and granted 200 of those benefits for about $3.4 million so far. 
"We are both ready and excited to start processing PACT Act claims for all veterans and survivors," VA's Senior Advisor for Policy, Performing the Delegable Duties of the Under Secretary for Benefits Josh Jacobs said during a Dec. 22 briefing. "We've been doing everything we can to expedite the processing of claims and make sure that we're prepared to start delivering benefits of veterans who've been waiting, in many cases, for far too long."
Modernizing Tech for Claims Processing
Over the past two years, the agency has harnessed new tools like automation to help it dig out of a pandemic-induced claims backlog. Ahead of the PACT Act's signing, the agency bolstered many of these processes for the anticipated support needed for the claims influx.
Since August, the agency received 212,318 PACT Act claims. The agency's overall claim backlog, not including those from the PACT Act, is just above 170,000 to date, with the peak being 260,000 in October 2021. In fiscal year 2023 so far, it has completed over 390,000 claims. 
"We anticipate the numbers increasing as we've had a number of claims that we've had to hold. We haven't yet had the authority to process the 200,000 PACT claims, and we're actively working to encourage more veterans to file right now," Jacobs said. "The backlog is going to increase, but we're prepared to tackle it."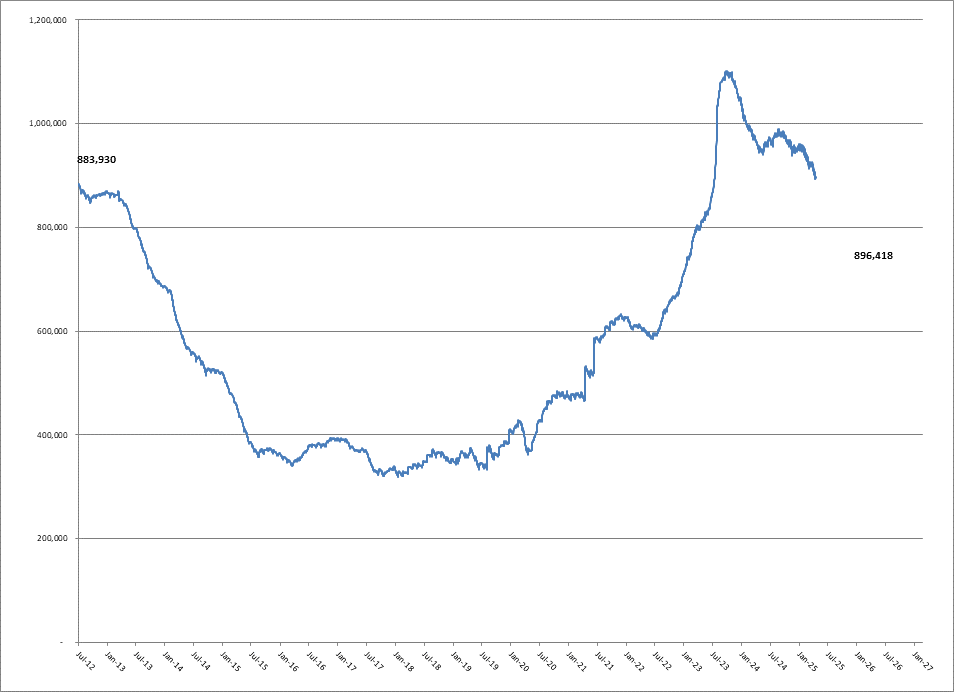 Plus, the Veterans Health Administration in November began offering new toxic exposure screening to all veterans enrolled in VA health care. The screening helps qualify veterans for new PACT Act benefits and improve veterans' long-term health care. Since then, more than 959,000 veterans have received these screenings, with nearly 39% reporting a concern of exposure.
VBA also is developing automated decision support to help employees process claims, Jacobs told GovCIO Media & Research. Those tools have been utilized at eight regional offices, which are the agency's pilot sites.  
"They're effectively helping to extract information from the records that exist in the veterans' file," Jacobs said. "We're actively leveraging and expanding that work to ensure we verify, validate and graduate it before we expand it more broadly. Then we're also continuing to scan many more veteran records that are critical for us to take advantage of that time."
VHA, VBA Workforce Impacts
Due to the anticipated claims and services influx, the agency is embarking on a widespread hiring push for both claims processors and health care personnel in the midst of a challenging labor market.
VHA has said it needs to hire about 52,000 employees per year over the next five years. In fiscal year 2022, VHA hired more than 48,000 new clinical and administrative staff. 
On the benefits side, VBA hired over 2,000 new employees to help process claims. In the first six months of fiscal year 2023, VBA plans to hire about 1,900 additional employees, 40% of which have been onboarded. It then aims to hire another 2,500 for the remainder of the fiscal year.
"Hiring is the goal that I wake up thinking about and go to sleep at night thinking about. It's a big risk systemically in America in health care," VA Undersecretary for Health Shereef Elnahal said during a briefing earlier this month. "It's the most important footprint. We have to implement the PACT Act to the extent we can. The American health care labor market is hurting, and everyone is competing for the same people."